Some individuals never wore traditional braces as a child, however, today they desire to have teeth that are in better alignment. Another group of patients may in fact have had braces in earlier years but still desire straighter teeth. With advanced dental technology at DentalWorks - Dublin at Dublin, OH, clear aligner trays, such as Invisalign, can straighten the teeth. Invisalign straightening trays uses numerous sets of trays to gradually shift the teeth into alignment. These clear fit tightly over the teeth and are kept on throughout the day and night. The aligners are usually only removed for eating, drinking colored liquids, and brushing. Clear tooth aligners, such as Invisalign from our dentists at DentalWorks - Dublin can effectively improve the teeth and create a beautiful smile.
Reviews
"I was in town for the Memorial Tournament and a tooth cracked. It was terribly painful. The staff got me right in and took great care of me in a time of need. Super experience. Dr Lee was very nice and fit me into a busy schedule. 5 stars!!"
- M.B. /
Google /
Jun 08, 2019
"My appointment went wonderfully! I was going in for a laser treatment, and the staff was very kind. The treatment itself was very reasonably priced, and I'm already feeling better- just 24 hours later. I'd say this office is a good place whether you're looking for a new dentist or just going for a simple procedure. They had me in and out in an hour- and it's only because I had to fill out some paperwork and contact my dental insurance for some id information. If you are prepared, then you'd be in and out even faster. Thanks again Dr. Jing Li and staff!"
- S.P. /
Google /
Apr 30, 2019
"The office is very clean and staffs are very friendly, welcoming, and helpful. I hope they remain this way ."
- S.R. /
Google /
Mar 23, 2019
"At 67 I've had extensive dental work and felt dentures would solve the need for ongoing, expensive procedures. The staff is exceptional. After an evaluation, Dr. Li persuaded me to go with a plan to give me the smile I hadn't had for decades. So now it begins an I am SO EXCITED! Stay tuned..."
- D.W. /
Google /
Feb 16, 2019
"Workers are great and friendly! The appointment went smoothly!"
- B.W. /
Google /
Jan 23, 2019
Previous
Next
If the patient decides that clear aligner trays using Invisalign is the right choice for orthodontic needs, the first stage begins with digital X-rays of the mouth so that the aligners can be made. Our dentists and the staff at DentalWorks - Dublin give each patient the knowledge so you know how to take care of and wear their trays, and discuss to the patient about how important it is to wear the aligners in for the majority of the day. Invisalign are usually worn for two weeks before a new set of aligners are then given. This is determined based on the progression of the teeth movement. During each visit at DentalWorks - Dublin, our dentists will give the patient a precise timeframe of how much longer they will be required to wear Invisalign.
Once the Invisalign treatment is completed, it is important that the patient use an Invisalign Vivera retainer to maintain the results. The majority of individuals need to keep their retainer in place during the night. For continued success, patients should proactively visit our dentists at DentalWorks - Dublin a couple of times a year and follow a diligent at-home oral routine.
The total cost of Invisalign will change based on the complications pertaining to the patient's teeth, and the number of sets of aligners that will be necessary. Dental insurance with orthodontics may cover some of the cost. This varies based on the patient's benefits. The staff at DentalWorks - Dublin will confirm what the patient's coverage entails so that a realistic fee can be provided by our dentists during the patient's initial consultation.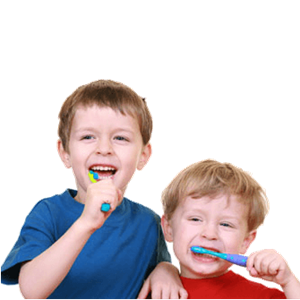 For adults who have a pleasant smile, but desire straighter teeth, clear aligner trays from DentalWorks - Dublin in Dublin, OH are a great solution to meet your aesthetic goals. Invisible orthodontic aligner trays can be worn easily to give you the smile you want. Our dentists will discuss all of the options with clear braces today and decide if Invisalign at DentalWorks - Dublin is the right choice for you.
Related Procedures